Our core activities center on the development of sophisticated scalable high-performance applications and web services using the latest technologies.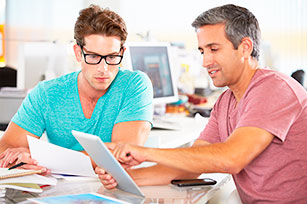 Professional web development by creating of clearly structured and efficient web applications. We will provide you with an all-round carefree package: comprehensive targeted analysis, concept, successful and error-free implementation as well as long-term support for the developed web applications.
We will realize your project in accordance with all the requirements for your web application; accomplish this we will put together a team of qualified developers and you will always have a contact person. We will lend you our assistance at every step from concept to completion of the entire website creating. Of course, we will guarantee you our support.
Our web-based software solutions provide process reliability and meet the highest security requirements.